Last Updated: September 8, 2020 10:30 a.m.
The GSEC team is currently monitoring the COVID-19 situation. While its full impact is unknown, we know that it will be significant for our regional, national and global economies. GSEC is compiling information, best practices and strategies to support the region's economic resiliency and ultimate recovery. We'll continue to update this page as those resources are released.
SizeUp small business planning tool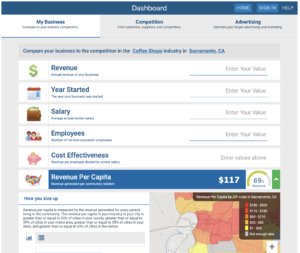 GSEC launched a free online tool, SizeUp, which provides custom market research and data to empower companies to make strategic and data-driven decisions on their next move. This will give businesses that are struggling or those that have closed due to COVID-19 access to hyperlocal information to help them get back to work.
Latest updates and archived newsletters
COVID-19 data map
The below map provides information about the spread of the novel coronavirus across the United States. This data comes from the New York Times and is updated daily. Select the entire country or any specific county or region from the drop-down menu, then click on the COVID-19 tab to choose which variables you'd like to display.
Greater Sacramento Community Resources and Updates
Please visit the links below to see additional support provided by the region's communities and organizations:
Downtown Business Donations
Seeded by a $30,000 contribution from the Downtown Sacramento Partnership, the public can now donate to the Downtown Sacramento Foundation to fund Recovery Grants to support businesses that suffered damage and/or theft in recent days. 100% of donations collected will fund the grants.
Donate at GoDowntownSac.com/donate. For large donations, we encourage checks to avoid processing fees. Send checks made out to the Downtown Sacramento Foundation and mailed to: 
Downtown Sacramento Partnership: ATTN Recovery Fund
980 9th Street, Suite 200
Sacramento, CA 95814
Downtown Recovery Grant
Ground-floor businesses located within the 66-block district managed by the Downtown Sacramento Partnership that have been the victim of street-facing physical damage and/or theft since May 29, 2020 are eligible for $1,500 grants to directly cover the cost of their insurance deductible or storefront repair.
Businesses can apply at DowntownSac.org/recovery.
How can you help?
Please email recovery@greatersacramento.com or call 916-441-2144 if you have a resource that should be listed on this page, have a question for us or know of any employers that are hiring.
Statewide Relief Programs
Resources for reopening and getting back to work safely
SBA Resources to Help Your Business Rebound from Crisis
The Sacramento District Office of the U.S. Small Business Administration (SBA) is delivering weekly, district-wide webinars that provide an overview of the resources and a Q&A session with attendees. See upcoming programs and register here.
Stay in the know.
Sign up for our weekly COVID-19 newsletter to stay informed about the latest resources and news.