Level up your workforce with new tech grads
Learn more about hiring entry level tech professionals from the Digital Upskill Sacramento Pilot Program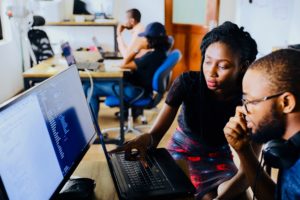 In September the Greater Sacramento Urban League, the Greater Sacramento Economic Council and the City of Sacramento launched the Digital Upskill Sacramento Program to reskill those affected by COVID-19, specifically focusing on candidates from underrepresented communities.
40 students are currently enrolled in the nine-week program and are on track to graduate by the end of 2020 with digital certificates in either IT Support or Data Analytics. Their programs are full-time, project-based and taught by industry leaders in digital upskilling at General Assembly and Merit America.
If you're interested in learning more about opportunities to hire program graduates, please fill out the form below.
Contact us to learn more about hiring program graduates.
More information about the Digital Upskill Sacramento Pilot Program:
This pilot program is a reskilling initiative for those affected by COVID-19, specifically focusing on candidates from underrepresented communities seeking an alternative pathway to a job in technology. The Greater Sacramento Economic Council applied for CARES Act relief funding and the City of Sacramento received $787,650 for the program. The Greater Sacramento Urban League (GSUL) and Greater Sacramento Economic Council (GSEC), are partnering to digitally upskill disadvantaged and displaced workers in some of Sacramento's most impacted communities.
Over 6,000 people applied for the 40 positions within the program. Participants received a free laptop and $600 per week over nine weeks once enrolled in the program and a digital certificate in either IT Support or Data Analytics after completing the curriculum.
"The promise of this program is that it connects all the dots: Participants are provided with high quality instruction and a basic income that will allow them to complete their training without economic hardship, and then they are placed in jobs," Sacramento Mayor Darrell Steinberg said. "This could be a model for our entire region and beyond as we work to ensure that all of our people are full participants in the economy of the future."
According to the Aspen Institute, more than 8 in 10 middle-skill jobs (82%) require digital skills. Even before COVID-19, the Greater Sacramento region was struggling to realize pathways out of poverty. Its most disadvantaged residents suffered the most during this and other downturns, and the alleviation of this was only incrementally better in the great recession recovery. In fact, in its 2018 report "Charting a Course to the Sacramento Region's Future Prosperity," Brookings found that 47% of African American residents and 42% of Latino residents in the region continued to be economically disadvantaged. To ensure all residents can change their economic fortunes, digital skills need to be accessible to all.
"There's no sign of letup in the speed at which the workplace is becoming digitized," Greater Sacramento Urban League President Cassandra Jennings said. "We thank the City of Sacramento for recognizing this and investing a significant amount of CARES Act relief funding to assist COVID impacted and displaced workers, as well as, uplift our most vulnerable Sacramento city residents. It took the crisis of a pandemic to realize the adverse impact of the digital divide in our city and throughout the region. The Digital Upskill Sacramento partnership with GSEC and GA/Merit America provides the greatest access for our city residents to pursue a tech career pathway toward economic self-reliance states."
The program will take place from October through December of 2020 with dedicated career coaching and support afterward until placed in a job.
"Implementing this type of digital pilot program for our underserved communities is a personal passion of mine and one of the most important initiatives we can tackle as a community," Greater Sacramento Economic Council President & CEO Barry Broome said. "Currently, we place people into low income jobs after being trained; we need to change the status quo. Our community needs to learn how to bring skills into the modern economy and see all people as an asset ready to bring value to the Sacramento region. Training our future workforce to make sure they have the digital skillsets is imperative as we build an inclusive economy throughout the Sacramento region."
Participants can elect to choose from two tracks for this program either in Data Professional or IT Professional. Programs are full-time, virtual and project-based and taught by industry leaders in digital upskilling by General Assembly and Merit America.
"We are thrilled to partner with the Greater Sacramento Economic Council and Urban League on this important initiative. General Assembly was founded in the last recession to enable more people to secure jobs in the new digital economy, and we're excited to bring this success model to Sacramento alongside our partners at Merit America," General Assembly Senior Director, Social Impact and External Affairs Tom Ogletree said. "We believe Sacramento will be an important model for the country to learn from as we face the collective task of helping our neighbors and communities reskill for the high-demand jobs of the recovery, which more than ever before will demand digital skills and competencies."