2022 Greater Sacramento Annual Celebration recap: Moving forward, together
It's been an incredible year for the Greater Sacramento region. We've conquered major milestones—Aggie Square broke ground, the California Mobility Center opened its doors to the public and the Woodland Research and Technology Park and California Northstate University Medical Center both made great strides in bringing their projects to fruition. On top of all this, GSEC's business development pipeline has never been stronger. The organization continues to see increasing interest in the region and has helped create thousands of new jobs. We celebrated these accomplishments and more April 28 at the 6th Greater Sacramento Annual Celebration, presented by Moneta Ventures.
This year's Annual Celebration was unlike anything we've done before. We toasted to the region's accomplishments at Drake's: The Barn, celebrated our annual award winners, reconnected with colleagues by the fire pits and enjoyed delightful games and activities, including a drone show. More than 500 regional leaders came out to celebrate with us.
2022 Annual Celebration award winners
Distinguished Service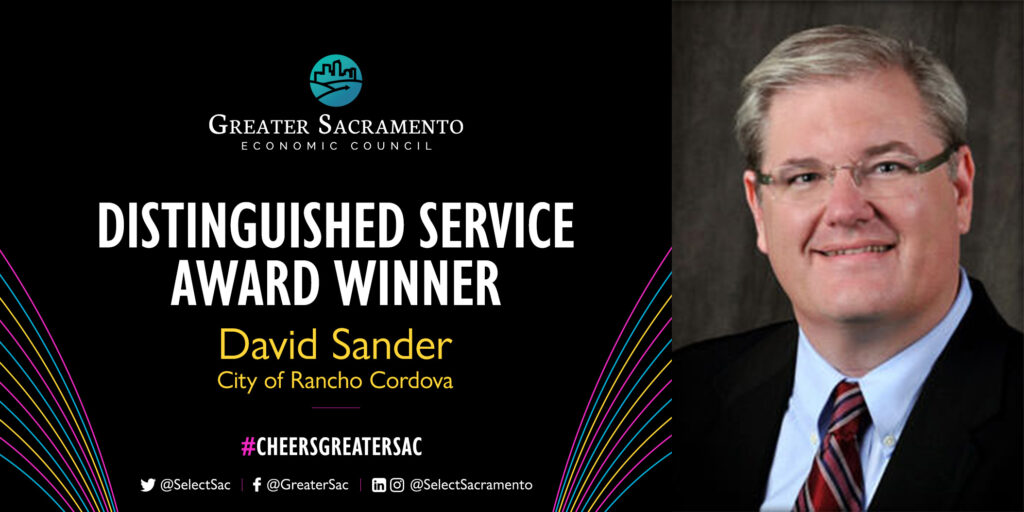 The City of Rancho Cordova has been leading the way on multiple fronts to foster an innovative economy. The city's recent workforce development program provided six free upskilling options to residents. It has been a resounding success to drive equity along with its effort to bring broadband to every home and business through the Rancho Cordova Fiber City initiative. Finally, it is working with North Point to bring more than 700,000 sq. ft. of industrial space to the market, helping the region address the need for new space and thereby making our region more competitive for jobs and investment. Through these efforts Councilmember Sander has led the charge to grow, sustain, bring equity and drive competitiveness to our regional economy.
This year, in addition to our annual Distinguished Service award, we presented a new set of awards that align with the pillars of our strategic plan: Growth, Sustainability, Equity and Competitiveness.
Growth
Contributed to the Greater Sacramento region in a meaningful way to grow new tradable-sector jobs, including but not limited to new company relocations, projects and developments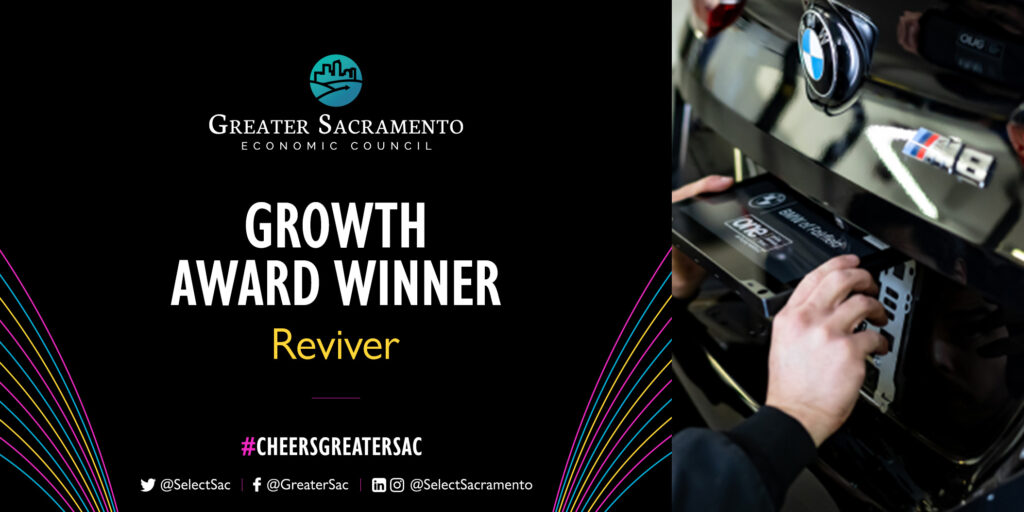 Reviver moved its global headquarters to Greater Sacramento from the Bay Area two years ago. Since then, this Granite Bay company has been steadily growing its operations, expanding its signature Digital License Plates into multiple states and countries. Reviver is modernizing the driving experience and is making transportation infrastructure more modern, safer, smarter and more efficient.
Sustainability
Contributed to the Greater Sacramento region in a meaningful way in the expansion and retention of tradable-sector jobs and businesses, industry cluster development or growing the local talent base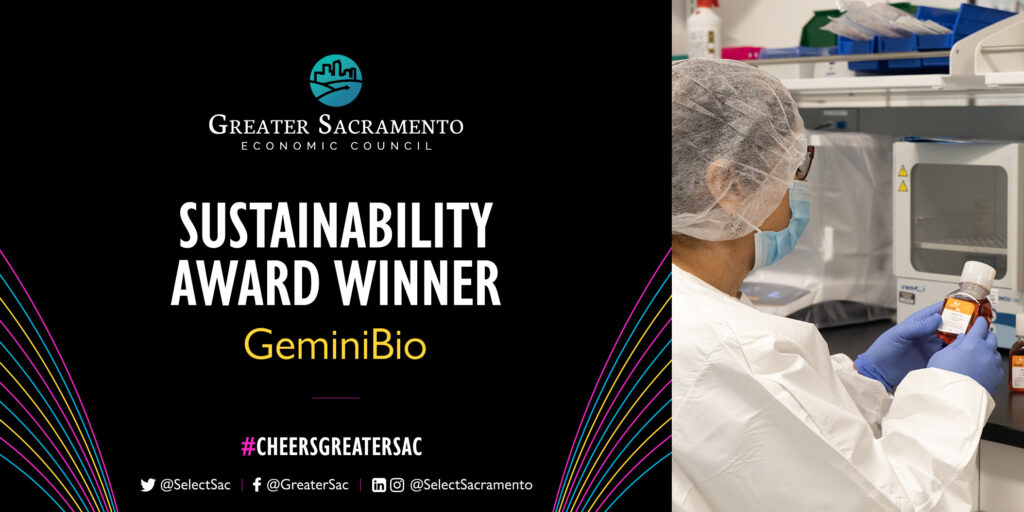 Founded in 1985 and located in West Sacramento, GeminiBio serves the global biotechnology industry, from basic research to commercial production. In 2021 GeminiBio broke ground on an expansion in West Sacramento that, when completed, will add more than 55,000 square feet of manufacturing and warehouse space. This expansion will allow GeminiBio to meet the stringent needs of biotechnology research and production customers, growing both its revenue and workforce. Life science companies like GeminiBio will reduce our dependence on government jobs and provide living wage opportunities for everyone in the region.
Equity
Contributed to the Greater Sacramento region in a meaningful way to create job access to underserved communities through apprenticeship networks, upskilling, reskilling and/or preparedness for next generation industry opportunities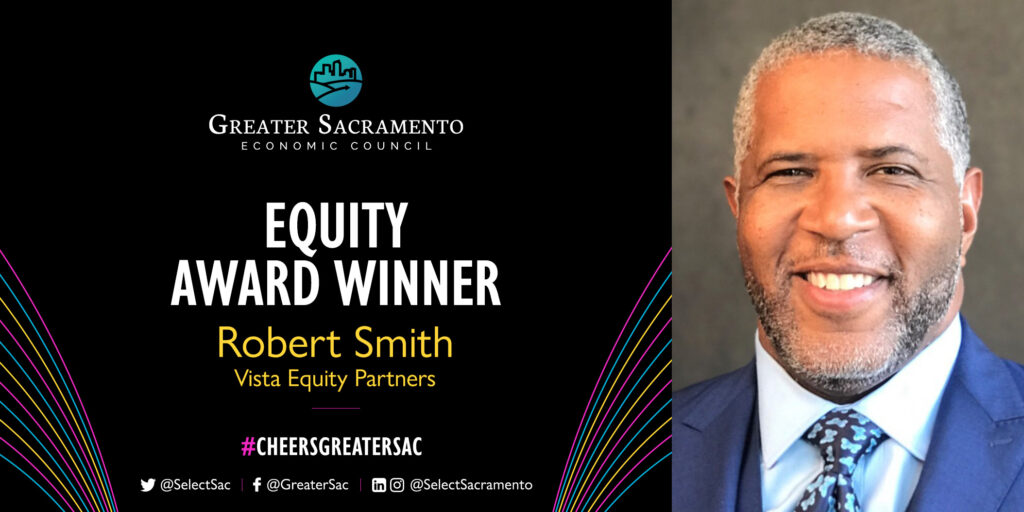 Vista Private Equity's investment in Folsom-based PowerSchool has not only helped the company accelerate its growth but has also improved the lives of those living within the Greater Sacramento region. Powerschool is a leader in educational technology, which was pivotal to allowing schools to quickly move to remote schooling when the pandemic hit two years ago. By investing in PowerSchool's tools, Vista has helped provide families of all backgrounds with the hands-on learning experience that every student deserves, improving student outcomes and increasing opportunities for economic mobility. Together, Vista Equity Partners and PowerSchool create an environment that ensures no student is left behind.
Competitiveness
Contributed to the Greater Sacramento region in a meaningful way to develop strategies, programs and policy solutions that enhance tradable-sector economic development and benchmark regional progress against competitor markets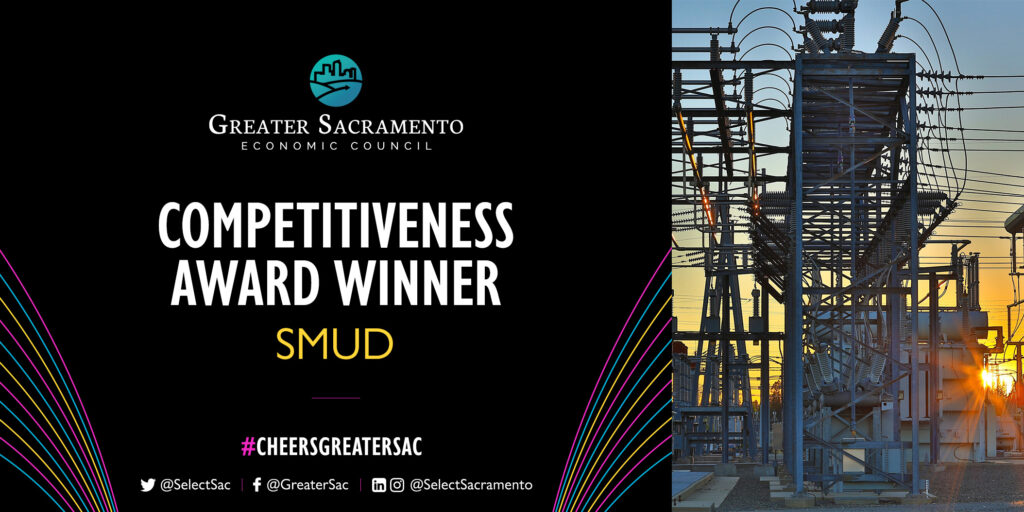 SMUD is ranked in the top five nationally among publicly owned utilities and is the sixth largest community-owned utility. It is the first utility to receive J.D. Power's electric utility sustainability designation and the first large utility in California to receive more than 20% of its energy from renewable sources. SMUD has launched the most ambitious carbon reduction goal of any large utility in the United States, committing to reach zero carbon emissions in its power supply by 2030. SMUD has played a critical role in not only serving the power needs of existing and new businesses in Greater Sacramento but also in putting the region at the forefront of renewable energy innovation.
Congratulations again to our award winners and a big thank you to all who joined us!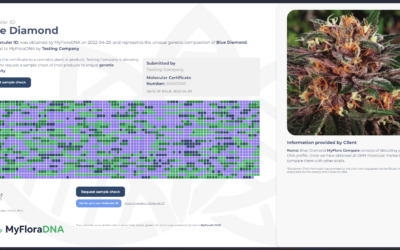 MyFloraDNA combines DNA technology with high-throughput data management, using their Real Time Dashboard MyFloraCLOUD. This effective tool enables their clients to manage their data from tested samples. This app also uploads the Molecular ID information of the sequenced strain to the Blockchain (in case the client requires it) to protect the information as much as possible.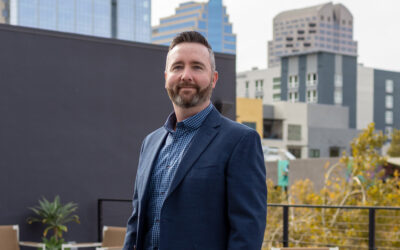 Michael Moore is the Managing Director, Tax Credits & Investment Advisory Services at Ernst & Young and a member of GSEC's Competitiveness Council. Learn more about why he values economic development, working with GSEC and living and working in the Greater Sacramento region.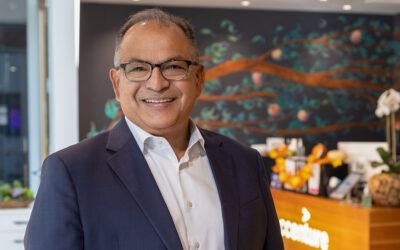 Mark Noriega is a Managing Director at Accenture and the Fiscal Year 2022/2023 Secretary of GSEC's Board of Directors. Learn more about why he values economic development, working with GSEC and living and working in the Greater Sacramento region.